In the effort of improving the updating process of firmware in your existing Powersoft K Series and Duecanali amplifiers for them to be fully compatible with Armonía, we are providing here a
Firmware Updater
packages for download,
separately
for K Series and Duecanali.
Please keep in mind that the latency when the DSP is engaged has changed respect to previous FW versions and it's now

INCOMPATIBLE

, so please

update ALL your amps to the latest firmware version (5.3.2) if you are using digital input.
The latency remains 5 ms for any analogue input, and raise up to 6 ms for any digital input.
If the analog backup is selected and a digital source is used, then the latencies between digital and analog are aligned. Please refer to the table below.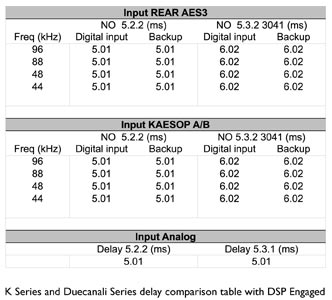 By downloading the file package you acknowledge having read and understood the following:
The ZIP package contains
- a PDF guide/manual for the udpate procedure (v0311) - please read and follow it carefully!
- a README file containing important information on this release and latency
- a PDF containing the delay comparison table
- a ZIP package of the Firmware Updater software (v1.1.32) - running on an MS Windows PC
- the latest amplifier firmware file (v5.3.2) - with suffix .pff
- a KAESOP firmware file (v5.3.2) - with suffix .bin - for amplifiers equipped with a KAESOP Ethernet interface
Required hardware
- K Series or Duecanali amplifiers with either KAESOP or serial RS485 interface (only Powersoft,
not
other brand versions)
- SmartCard(s) compatible with K Series/Duecanali
- PC with MS Windows and either Ethernet port (for amps with KAESOP), or RS485 port/adaptor (for amps with serial port)
- wiring according to required Ethernet or serial communication
- stable and uninterrupted mains (AC) power
Notes
- Again, please read and strictly follow the procedure!
- Do not interrupt the update process!
- Do not interrupt the mains (AC) power!
- Do not load K Series firmware into Duecanali, or vice versa!
- Later the SmartCard(s) used will not work as Preset Card(s) anymore.
-
You are performing the firmware update at your own risk!
Faults and defects due to incorrect updates are not covered by warranty. If you prefer, please contact the nearest Powersoft service center, or Powersoft direct, for an experienced technician to perform the update.
______________________________________________________
You do not have the required permissions to view the files attached to this post.